What's New
---
Narcotics Anonymous Meeting
On Thursday nights at 7:00 PM an NA group meets at the church, feel free to attend anytime. If you have questions, call the church Tuesday through Thursday from 9:00 AM to 2:00 PM, or Friday from 8:00 AM - Noon.
Sundays
---
Summer Worship
During the summer months we plan to worship in the church backyard. Bring a chair. Worship begins at 10:00 AM. The Parsonage patio is available for anyone who would rather not be on the lawn. If it rains, we will be in the Sanctuary. We will continue to livestream the service on Facebook.
What to Expect
We understand that visiting a church for the first time can be a bit uncomfortable. Hopefully our Letting you know what to expect should help a little.
Our Sunday worship services include singing, responsive readings, prayers, a scripture lesson, a sermon, and (on the first Sunday of each month) Holy Communion. All people of sincere faith, regardless of religious tradition or church membership are invited to share in Holy Communion; but no one is obligated.
An usher will provide you with a friendly greeting and offer you a bulletin, which contains the order of service. The bulletin will let you know when to sing, read, or stand. It will also provide you with information about what is currently happening at the church.
Children remain in the sanctuary with their families until after the Children's Moment (around 10:15); they are then dismissed to attend Sunday School. (Children are also welcome to stay with their families during the entire service as well.) We provide nursery care throughout the service.
After the service, everyone is invited for a time of fellowship and coffee/tea/juice and snacks in our church lounge. This is our Happy Hour
Most people who attend on Sunday morning dress in "business casual" or "smart casual" attire. Some dress more formally, and others dress more informally. We invite you to come dressed in what makes you feel comfortable.
We look forward to your visit!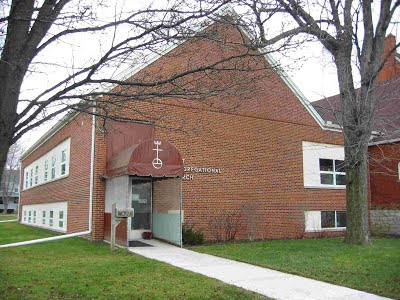 Accessibility
---
The church building is handicap accessible through the west entrance (the door with the covered awning featured in the above photo).

Upon entering, we have an elevator that will take you from the basement to the main level. Handicap parking is available near this entrance.
Click the Map to view parking and directions.